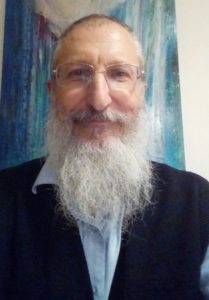 I have been involved in mindfulness practice for over 20 years. I first learned meditation in 1980 at the Zen Center in Cambridge, Massachusetts.  After a year of intense practice, I left to pursue my interest in Judaism.  This led me to learn in yeshiva in Israel for over ten years.  I learned Talmud  with the late Rabbi Aryeh Carmel za'l and chassidut in the yeshiva of Rav Yitzchak Ginsburgh.
In 1997, I returned to the practice of mindfulness with the foundation of Torah to guide me.  I studied Rabbi Aryeh Kaplan's books on meditation and trained in Mindfulness Based Stress Reduction created by Dr. Jon Kabat-Zinn.  I learned with Professor Ron Siegel in how to use mindfulness in treating psychological stress.  In addition I am a certified addictions counselor and use mindfulness as a treatment modality for those on the road to recovery.
I have been teaching Jewish mindfulness to groups and individuals since 2015 and have seen men change their lives as a result of this practice.
I live in Jerusalem with my wife Chaya Sara Brand.
To book a 30 minute free consultation, call 052-873-2733 or email me at mendelweinberger@gmail.com.  I am also available for sessions on Skype.
Haskama from Rav Breitowitz
Click here to read the Haskama from Rav Breitowitz, Rav Kehilas Ohr Sameach